Some of movies/episodes have subtitles added so you must disable Adblock to be able to see it.
We suggest to press pause and let the movie load for a couple of minutes in the background then you can start watching it.
Bookmark our site, share it with your friends and enjoy watching TV Series and movies online.
If a movie has been deleted you can Report the link and we will reupload it.
Coupling: 1x3
Sex, Death & Nudity
Jeff explains to the guys about 'The Giggle Loop': the danger that the more you try to suppress laughter in important silences, the harder you want to laugh. Jane's aunt has died, and she wants Steve to come to the funeral, pretending to be her boyfriend still. Susan invites herself, and so Patrick must come as her 'boyfriend', and all six end up going.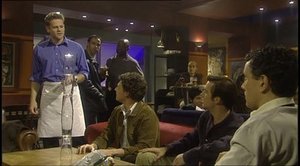 May. 26, 2000